At a glance
Investment date
August 2019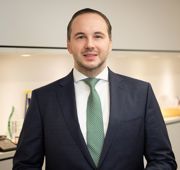 Michael Thanner
Investment Advisory Professional
Press Releases
Pharmanovia is a fast-growing specialty pharma business that is commercializing and marketing branded prescription medicines globally.
Pharmanovia – The original medicines specialist globally
The Pharmanovia story
Founded in 2013, the Company has grown from a small family business operating solely in the UK to a global specialty pharma business, marketing more than 20 brands in over 140 markets, operating through more than 10 offices (and constantly growing) with over 200 employees. The Company earnings have grown around 50% year-on-year, for the last 7 years.
Within Pharmanovia's strategic therapeutic areas, the Company has developed its own innovative medicines as well as niche specialty products, and it has acquired tried and trusted medicines and iconic brands from innovator pharma companies and breathed new life into them.
Pharmanovia focuses on delivering high-quality branded prescription medicines to patients, prescribers and healthcare providers across the globe. The Company is specialized in the late-stage activities of development, co-development, licensing and acquisition. Pharmanovia maintains a simple, lean operating model, working in-depth with its partners.
Why Triton invested
Health is an area where Triton has a lot of experience. The market for pharmaceutical products enjoys stable and long-term growth which is driven by increasing healthcare spending.
Established products have a large and recurring patient base and Pharmanovia as the original medicines specialist globally has a successful track record of acquiring iconic, tried and trusted medicines from large cap and specialty pharma companies. Further, Pharmanovia has significant opportunities to drive growth through the development and licensing of complementary and niche specialty pharma products.
The investment in Pharmanovia is based on the attractiveness of the business model, the Company's strong track record as preferred partner to innovator pharma companies and the partnership with the previous owner.
The transformation journey
Triton is working with Pharmanovia to grow both the business and its portfolio of existing brands through marketing and promotion as well as by entering new markets, and moreover, through add-on acquisitions, development, co-development and licensing of niche, value-add specialty medicines. Based on its successful track record and position as the original medicines specialist globally, Pharmanovia is well placed to further progress iconic medicines for the benefit of patient health globally.