Our Environmental, Social Responsibility and Governance Policy
Environmental, social and governance (ESG) issues impact the communities where Triton and our portfolio companies operate. Triton recognises this and has made a public commitment to incorporate ESG principles in the way we behave.
Triton's Responsible Investment Policy was developed in alignment with the requirements of the UN Global Compact's ten principles in the areas of human rights, labour, the environment and anti-corruption, the Universal Declaration of Human Rights of the United Nations as well as the OECD guidelines for Multinational Enterprises.
In accordance with our own and PRI guidelines, all partners and employees of Triton are expected to conduct their activities in accordance with the following business principles:
Seek to grow and improve portfolio companies for long-term sustainability and for the benefit of multiple stakeholders
Act as a responsible steward of investors' capital and portfolio companies businesses.
Embed ethical, responsible and rigorous decision-making into investment processes and portfolio management activities
Adopt effective corporate governance structures which provide appropriate levels of oversight and accountability both at portfolio company level and internally within Triton
Manage risks effectively and seek to minimise or mitigate any adverse effects on the environment, community, workers and other stakeholders
Communicate effectively and transparently with investors, portfolio company management, other stakeholder and the general public
Maintain strict anti-corruption policies
Align financial rewards with financial performance
Read our full Responsible Investment Policy here: https://www.triton-partners.com/media/2598/20200311_triton-responsible-investment-policy-march-2020.pdf
Working with portfolio companies to find ESG solutions
We believe that taking environmental, social and governance (ESG) considerations into account is essential. Addressing ESG challenges and finding solutions with our portfolio companies leads to building better business in the communities where we and our portfolio companies operate. We also understand that focusing on ESG with our portfolio companies will protect and create value while positioning them for a better future.

We work in close partnership with our portfolio companies and support them through an ESG programme and an annual forum. This forum brings key functional leaders from our portfolio companies together to learn, share and find better solutions.
Learn more about some of the topics that we discussed at our 2018 event in ESG Forum video.
UN PRI
Triton is a signatory to the United Nations-backed Principles for Responsible Investment Initiative (UN PRI) since 2012. The UN PRI is a network of international investors working together to ensure that ESG issues are given appropriate consideration in the investment process.
As signatories we incorporate environmental, social and governance principles into our investment analysis, decision-making processes, ownership policies and practice.
Read our RI Transparency Reports: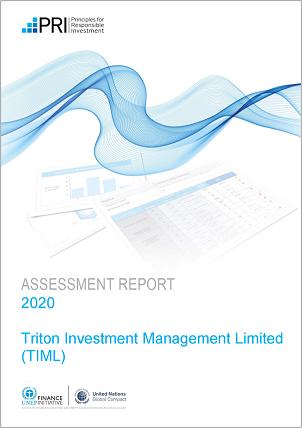 We are delighted to be a Sponsor of Level 20, the not-for-profit organisation established to inspire women to join and succeed in the private equity industry.
Our firm supports Level 20's mission to encourage greater female representation across the private equity industry with the goal of having 20% of senior positions in the industry held by women and with a particular focus on increasing the number of women in investment roles.
We support Level 20's five key initiatives to achieve this mission: mentoring and development; networking and events; outreach; advocacy; and research. We encourage our employees irrespective of gender to be active members of Level 20 by contributing to Level 20-led research, discussion groups and outreach events and participating in the annual mentoring programme. Our firm's engagement with these activities is led by our internal Level 20 Ambassador.