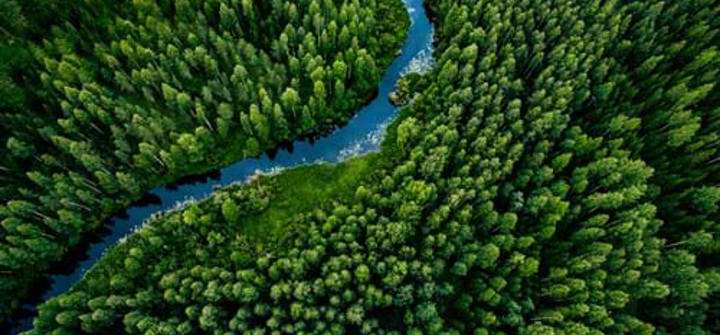 At Triton, we always seek to grow and improve portfolio companies for long-term sustainability and for the benefit of multiple stakeholders. Our Responsible Investment policy sets out our public commitment to integrate ESG principles into everything we do.
Read our Responsible Investment Policy here.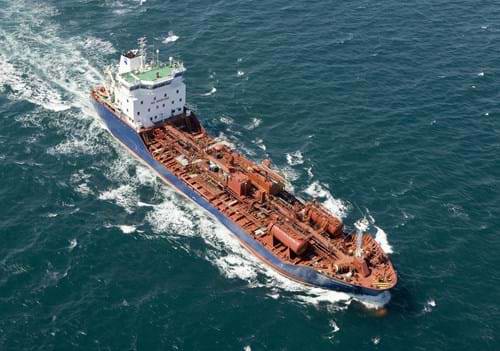 A responsible ownership approach of improving the way businesses do business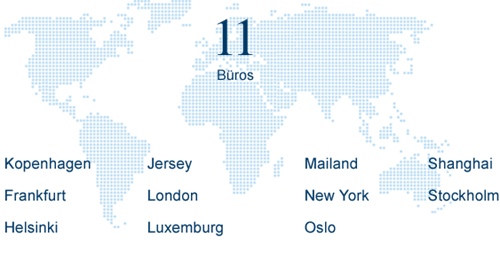 investments made since 1999
add-on acquisitions supported
Our portfolio
49
companies in portfolio
8 sponsored funds total commitments
49

companies in portfolio

8 sponsored funds total commitments
ESG during the investment cycle
Embedding ESG into the investment cycle
Triton's ESG programme is based on our responsible investment policy and applies to all investment strategies.
In Private Equity, which accounts for around 90% of Triton's funds under management, ESG risks and opportunities are identified and managed throughout the investment cycle – from initial research to our final exit from the company (as shown below),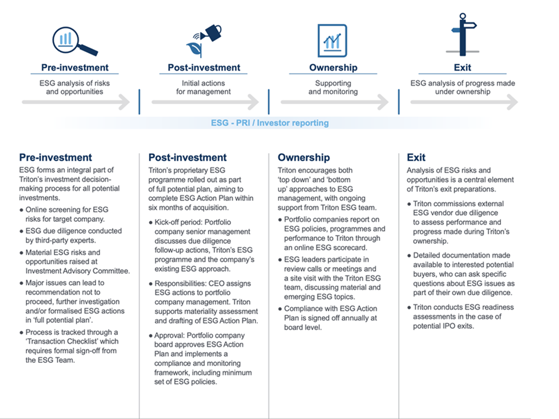 ESG Governance Structure
Our ESG governance structure enables Triton's PCs to mitigate risks and realise ESG opportunities aligned to their business activities, helping them create and protect value under our ownership and for the future.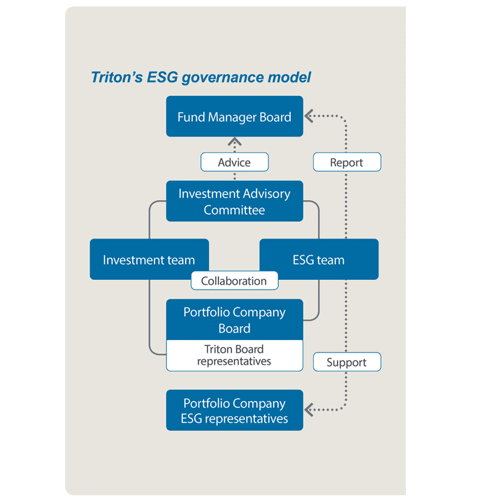 Within Triton, overall responsibility for the ESG programme, along with all investment decisions, sits with the Fund Manager Board. The Board is advised by the Investment Advisory Committee ("IAC") and receives regular reports from the ESG team.
Triton's dedicated ESG team of five full-time professionals works closely with the deal teams and PC board representatives. It also provides ongoing support and expertise to ESG representatives within PCs.
In all cases, the PC board has ultimate responsibility for the ESG agenda. In practice, PC CEOs designate responsibility for delivery of the ESG plan to their management team.
Depending on the company, this might be the CFO, in-house counsel, HR, Communications Director, Quality Health Safety Environment Director, or a dedicated Sustainability role. These individuals are supported by the ESG team every step of the way.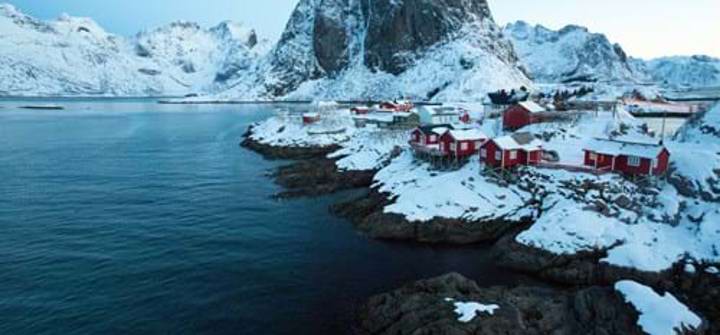 ESG Forum
We work in close partnership with our portfolio companies and support them through an ESG platform and an annual forum.
This forum brings key functional leaders from our portfolio companies together to learn, share and find better solutions.
Learn more about some of the topics that we discussed during our ESG forums in the below films:
Sustainability-Related Disclosure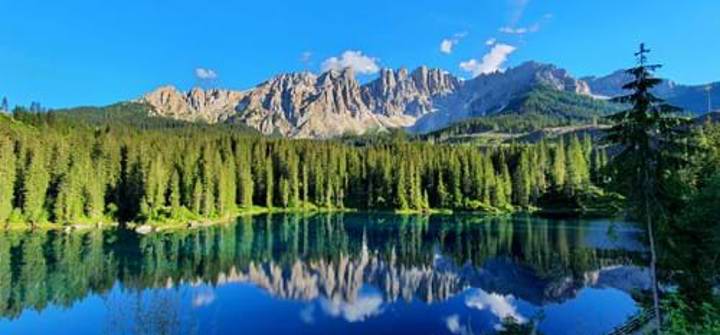 UN Sustainable Development Goals
The United Nations' (UN) Sustainable Development Goals (SDGs) set out a blueprint for a prosperous and sustainable world.
Triton believes that businesses have an important role to play in delivering positive social and environmental change. The SDGs help us to identify and prioritise our ESG activities and demonstrate measurable impact against our goals.
We have aligned our material ESG topics with the SDGs to which Triton and its portfolio companies can make the biggest contribution. These, including relevant SDG targets, are set out below.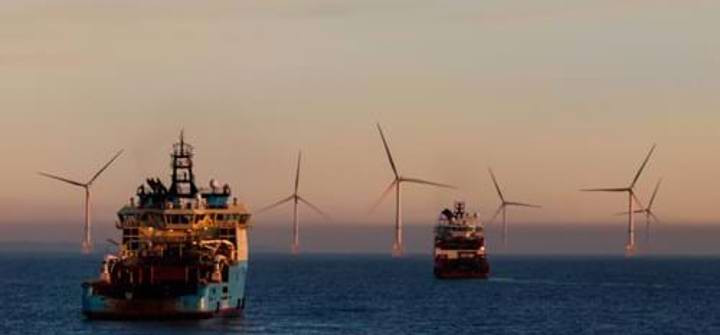 Principles for Responsible Investment (PRI)
Triton is a signatory to the United Nations-backed PRI since 2012. The PRI is a network of international investors working together to promote the integration of ESG considerations across investment and ownership processes.
As signatories, we report annually on how we incorporate ESG principles across the entire deal cycle, including investment analysis, decision-making processes, and ownership practices. Triton was awarded an A+ rating for "Strategy and Governance" and "Private Equity" module in its most recent assessment in 2020.
Read our RI Transparency Reports: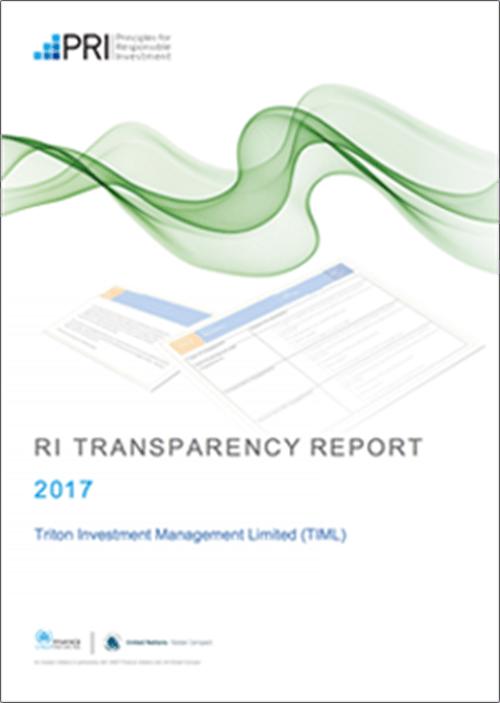 Responsible Investment timeline
2020
2020
2019
2019
2018
2018
2018
2017
2016
2015
2014
2014
2013
2012
2012
Responsible Investment report
1st
Published first public Responsible Investment report
Online webinars series
ESG Forum moved to an online series of webinars
Sixth ESG Forum
6th
ESG Forum focused on 'Capturing Value Creation' Launched portfolio company annual ESG Awards
Started ESG Awards
Started portfolio company annual ESG Awards
Reporting
Introduced online ESG reporting tool
ESG bi-annual review
Formalised portfolio company ESG bi-annual review process
Fifth ESG Forum
5th
ESG Forum focused on 'Enhancing Culture'
Fourth ESG Forum
4th
ESG Forum focused on 'From Reactive to Proactive'
Third ESG Forum
3rd
ESG Forum focused on 'Value Protection to Value Creation'
Second ESG Forum
2nd
Second ESG Forum focused on 'Risk Management'
ESG programme roll out
Rolled out ESG programme to portfolio companies
First ESG Forum
1st
First ESG Forum focused on 'Policy Implementation'
ESG Team
Triton appointed ESG team
UN PRI
UN PRI
Triton signed UN PRI
Responsible Investment policy
Triton approved Responsible Investment policy