One of the leading office chair manufacturers in Europe
Flokk was acquired by Triton Fund IV in October 2014
Flokk is one of the leading office chair manufacturers in Europe. The company was founded in 2007 when three Nordic office seating producers HÅG in Norway, RH in Sweden and RBM in Denmark merged. Flokk is the only international firm to specialize in the production of individual office and larger environment seating. It has a track record of over 40 years in the development of ergonomic seating solutions with excellent recognition of its HÅG brand. Flokk distributes through an independent network of distribution partners in 15 countries.
Headquartered in Olso, Norway, Flokk has assembly plants in Røros, Norway and Nässjö, Sweden.
The company strives to minimize its environmental impact by actively trying to achieve a low carbon footprint, using no toxic chemical, as well as reducing its use of non-renewable resources. The HÅG Capisco, one of the companies leading ergonomic office swivel chairs, is the only work chair in the world to bear the Swan Nordic eco-label.
Triton had followed Flokk, then known as Scandinavian Business Seating, since 2012 following the recruitment of one of the Company's founders and Board member from Ratos. Recognizing the company's strong market position, a potential market rebound and various value creation measures, Triton participated in a limited M&A auction in the summer of 2014. Triton's understanding of the sector's macro dynamics and the measures needed to take the Company forward, as well as the Firm's geographical reach were key in winning the deal. Triton acquired Flokk in October 2014.

At a glance
Investment date
October 2014
Number Of Employees
549 (2018)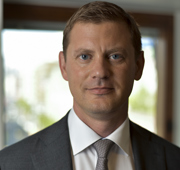 Thomas Hofvenstam
Investment Advisory Professional, Investment Advisory Committee
Management
Lars Røiri (CEO)
Eirik Kronkvist (CFO)
Board of Directors
Mikael Aro (Chairman)
Thomas Hofvenstam
Pernille Stafford-Bugg
Kristine Landmark
Joachim Espen (Observer)
Key events since Triton's investment
Flokk acquired BMA Ergonomics, a leading producer of swivel chairs marketed under the Axia brand in the Benelux region (2015)
Flokk acquired Malmstolen, a Swedish producer of ergonomic swivel chairs marketed under the Malmstolen brand (2016)
Flokk acquired OFFECCT, a Swedish producer of lounge and soft seating furniture for the modern meeting place (2017)
Completed a rebranding to Flokk to better communicate its common strengths: deep design thinking; cross-functional teams working to create beautiful and functional furniture; human centered approach; sustainability; and furniture for all environments (2017)
Press Releases