At a glance
Investment date
October 2014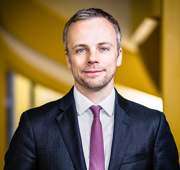 Claus von Hermann
Managing Partner, Co-Head of Triton Mid-Market
Management
Andrew Blandford (CEO) Mark Bevan (CFO))
Board of Directors
Hubertus Mühlhäuser (Chairman)
Michael Gahleitner
Claus von Hermann)
Key events since Triton's investment
Supported the company in rebranding and becoming an independent and standalone company
A global industrial heat exchangers manufacturer
Kelvion was acquired by Triton Fund IV in October 2014
Kelvion is a globally active manufacturer of industrial heat exchangers for different kind of markets, its management is based in Bochum, Germany. Its large product portfolio includes plate heat exchangers, shell & tube heat exchangers, finned-tube heat exchangers, modular cooling towers and refrigeration heat exchangers. The company reaches customers in global markets for power generation, oil and gas, chemistry, marine applications, climate and environment, and food and beverages. Kelvion focuses on customer-specific products and services and serves its target groups throughout a global sales and production network.
Prior to Triton ownership, Kelvion was the Heat Exchanger Systems division within the GEA Group AG's Heat Exchanger segment. The former division became a standalone company, and in November 2015 was branded Kelvion. The two remaining Heat Exchanger segments have also become standalone and independent companies, namely DencoHappel (formerly Air Treatment) and ENEXIO (formerly Power Cooling Solutions).
In October 2017, Triton Fund IV acquired Rocore, a producer and supplier of head exchange products in the US. Rocore focuses on heavy duty industrial end markets including Power Generation, Petrochemical, Oil & Gas, Rail, On-Highway and Off-Highway. Since September 2018, Rocore is part of the Kelvion Group.